Back in September, I published a number of posts on Freya and we discussed what we'd like to see in their future collections. My opinions on this newest collection are based on those conversations so if you haven't read them, it might be cool to check out one of the posts below:
While no representative of the brand told me this directly, the collection seemed like a response to the aforementioned posts and the awesome suggestions you made then. Are the Freya Autumn/Winter 2014 pieces mind-blowingly cool and radically different from what we've seen in the past? Um, no. But I think something has shifted and if it continues to go in this direction, Freya has enormous potential to be one of the "middle market" brands we've wished for. In short, the Autumn/Winter 2014 collection is a vast improvement over Spring/Summer's 
and
 I'd like to see even bigger, more dramatic changes.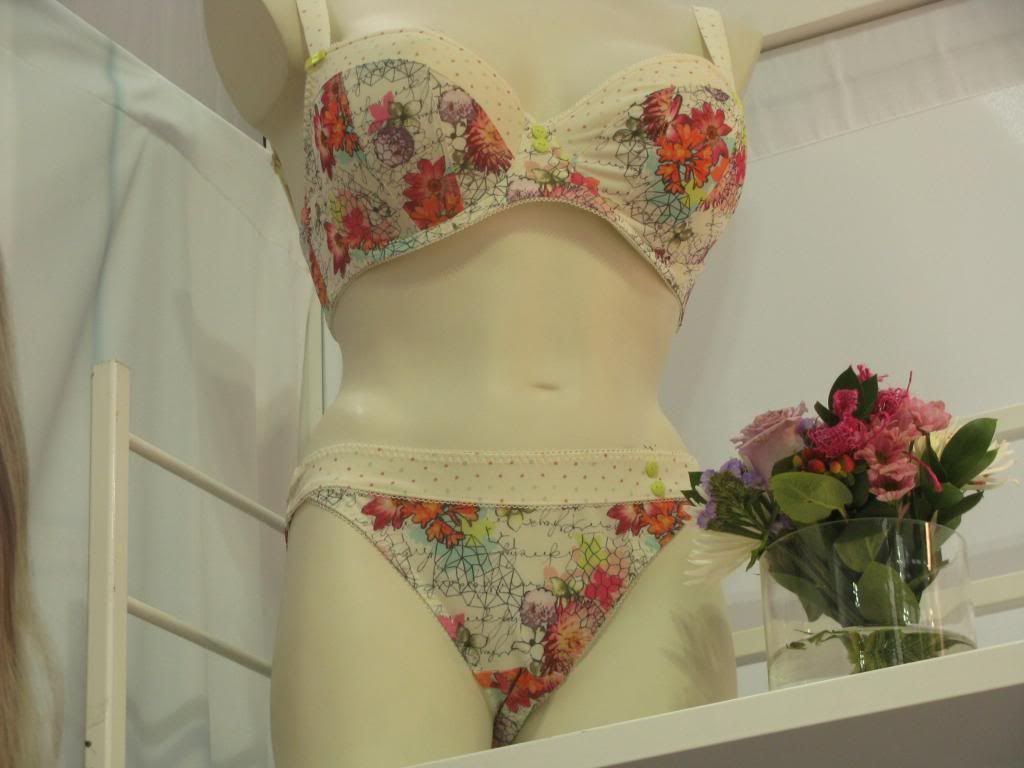 The Daydreamer in Ivory (July)
I had a knee jerk reaction to the Daydreamer which surprised me since the description alone would've made me grimace: one more busy Freya print with layers of pattern, including honeycomb, bright flowers, and romantic script complimented by polka dots and lime green buttons? It sounds as if it should be repellent, but I think it works.
The Freya representative -- who kindly showed us the collection -- commented that the Daydreamer reminded her of the Ada from a few seasons ago. There are some similarities I suppose, except that the Ada's print was insanely juvenile-looking and I hated it (I reviewed it 
here
). The Daydreamer is hardly the classiest design, but it feels much more "current".
This line is a big one, there'll be a padded half cup (
28
-38 D-G, 
28
-36 GG, & 30-36 H), a longline (28-28 D-G), the balcony and plunge balcony standards (the former covering sizes 28-38 GG-J, 30 -36 JJ, K with the later 28-28 D-G), a matching brief, short and thong.
The Enchanted (continuity from July)
For Autumn/Winter 2014, The Enchanted will receive it's final colorway in black. I'm ambivalent about the black since it's a style that I'm guessing won't be particularly flattering on my shape (higher underarm coverage and I have no love for one another) and I really, really enjoyed the unexpected orange/white version which will be out in March as a part of the current season.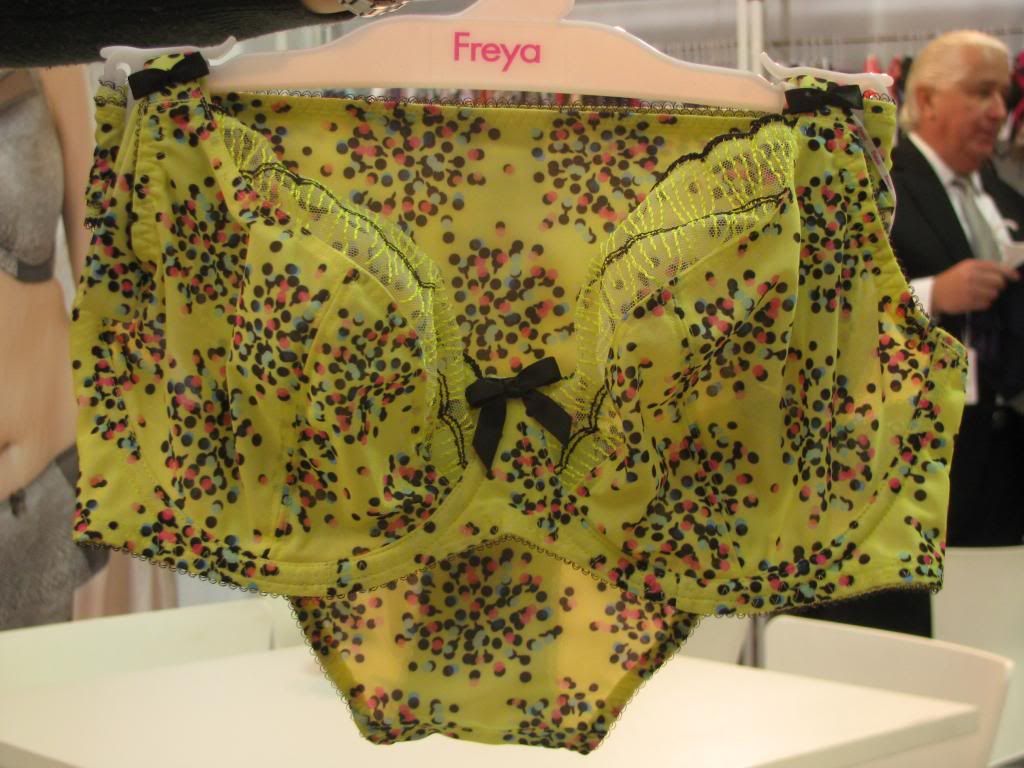 The Ignite in Yellow (July)
I am not as enamored with these layered, multi-colored polka dots prints as Freya appears to be. We saw this pattern begin in
Spring/Summer 2014
 with 
the fuschia Patsy
 and 
the Marvel's first fashion colorway in mint
 and it continues into the next season with the Ignite. 
Meh
. 
The Rapture in Neon (August)
I'm pumped about the Rapture! Hahaha, oh wow. Never thought I'd write those words...Yeah, so I feel that the Rapture is symbolic of the changes in the brand because there was general agreement -- in the Freya series on the blog -- that it would be nice to see more geometric patterns. Low and behold, we have this line which fulfills that demand and ends up looking like a working man's version of 
Huit's "Backstage" line
. Not that I'm complaining! The more Freya looks like Huit the happier I am.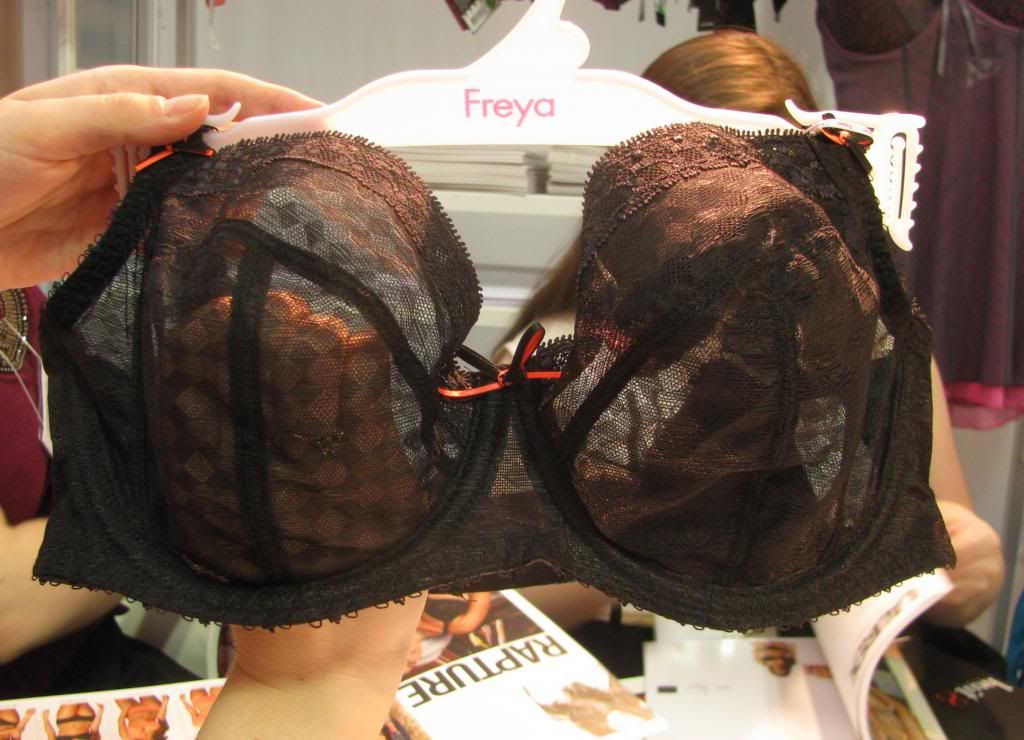 The Rapture in Black (continuity from August)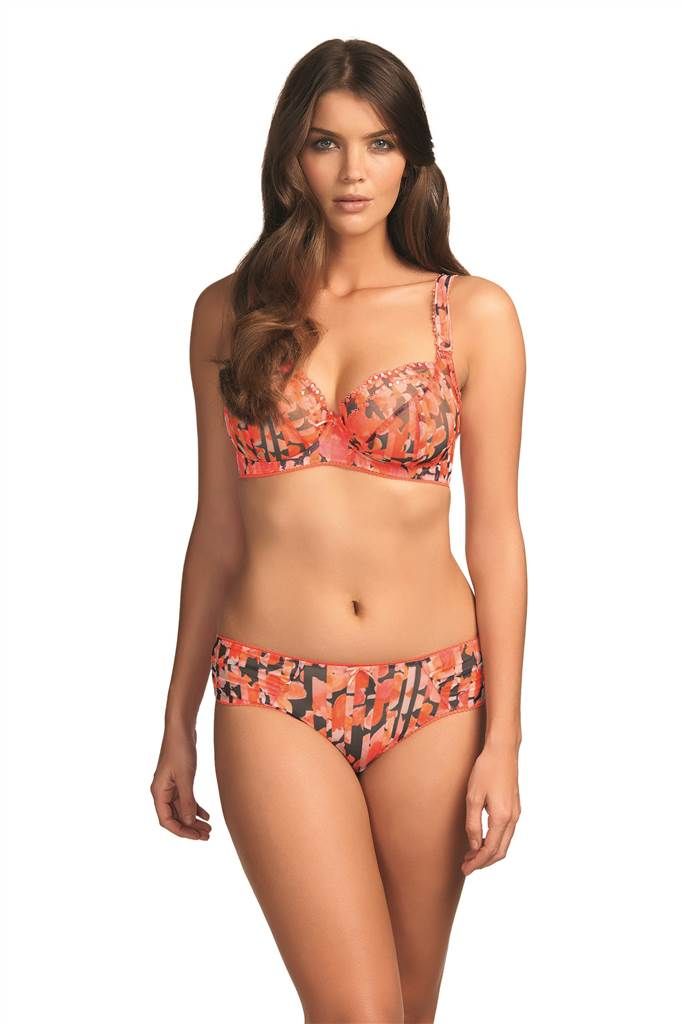 The Flowerbomb in Spice (September)
LOVE. LOVE. LOVE. I loudly proclaimed my feelings about the Flowerbomb when 
Sweet Nothings
, 
the Lingerie Lesbian
, Zack and I were in the Eveden booth. To my utter shock and dismay, Sweets didn't feel exactly as I did (UM, what?!?! How dare she think differently from me!) so I've decided to list some of the reasons why I'm all about this:
1. I know the "Spice" is a lot to take in, but I think it would look at home in an 
Anthropologie
 store or any other place that peddles in funky, ever-so-slightly edgy and eye-grabbing prints. It's not a floral pattern nor is it straightforwardly linear one but it retains an interesting femininity.  
2.  Unlike this season's 
Jungle Fever
 with it's cutesy pink contrast bows and glittery embroidery, the Flowerbomb isn't over-designed. The color and print carries the line so it doesn't need any kooky additions. Freya, I applaud your restraint.
3. It doesn't strike me as particularly juvenile, which breaks up Freya's commitment to using the girliest patterns on their sheer bras (the Untamed's purple butterflies, the Ruffle My Feathers' cutesy oversized plumes, the Jungle Fever's zebra & hot pink combination).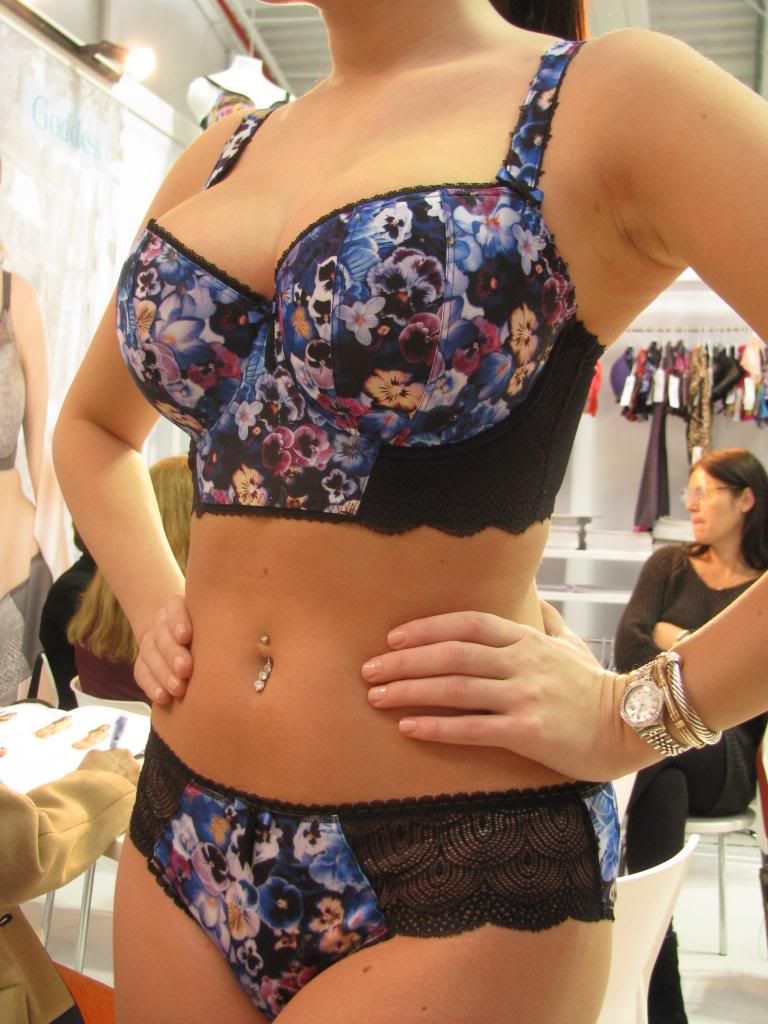 The Pansy in Midnight (October)
The Pansy is one of the diamonds in the crown of Freya's upcoming collection, if not the crown jewel itself. The "photo-realistic" nature of these blooms is wickedly on trend, the black lace makes this line unbelievably sexy, and those colors are just spectacular. Winning!
The Instinct in Magenta (November)
I tried to like the Instinct because brightly colored animal patterns were a hot trend for Autumn and there was 
something
 about the design that appealed to me, but in the end, it's too much for me. 
The Icon in Storm (November)
Like the Pansy, Rapture, Deco Vibe and Flowerbomb, I'm antipating the Icon's release. It's an entirely new shape and I love the unusual combination of grey and hot pink. It's also a full bust adaptation of a Natori bra that -- like Kleenex or Jell-O -- has become synonymous with a specific style. In the intimates apparel industry, if you say a bra is "like 
the Feathers
", it's shorthand for bras with padded cups and a sheer lace or mesh overlay that extends into a deep V through the straps. The Icon fit the model so well and Freya rarely experiments with their constructions so I can't wait to try it!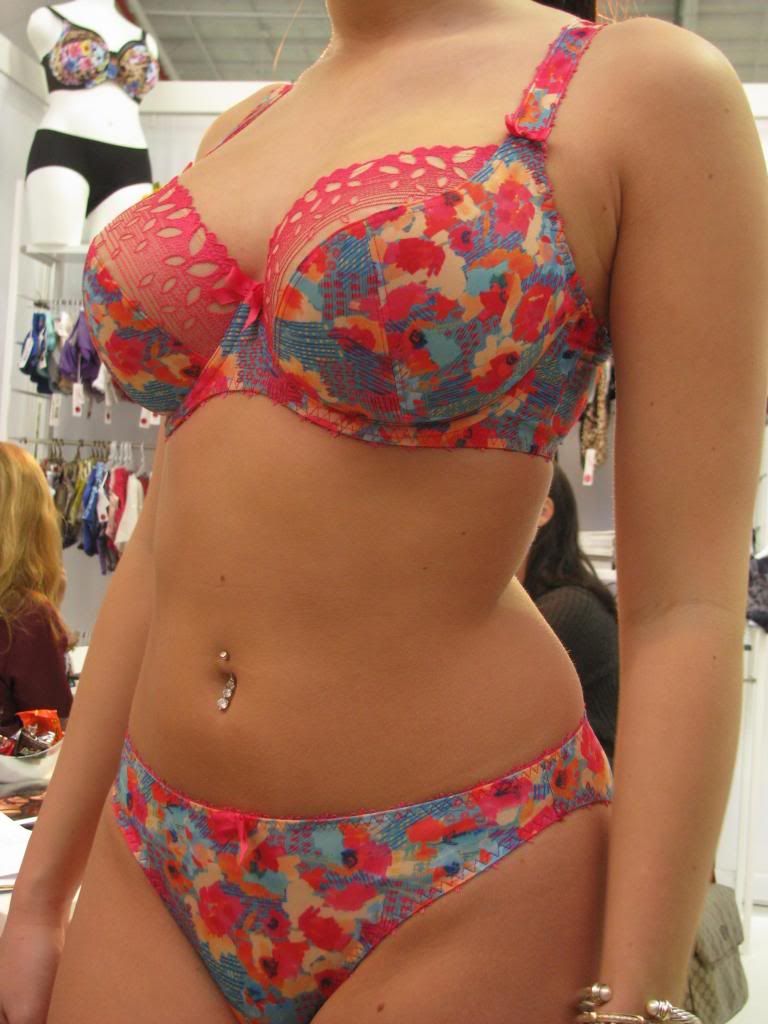 The Doodle in Hot Pink (December)
I heard someone call this line the "
Saved by the Bell
 bra" and I think it's an apt description. Neons emerged as a strong trend across the show and particularly within Freya's collection, but I'm not feeling this print's Floridian vibrancy. However, the embroidered top cup is genius and if it was connected to something more appealing, I'd buy it in a second.
For instance, the upcoming Mimi Holliday has a line called the Fab which also featured pink embroidery against a beige transparent base. The Doodle isn't miles away from the Fab so I could easily imagine replacing Freya's funky printed pieces with mesh, making it an allover sheer design. But I wouldn't stop there, using the hot pink color, I'd highlight the bra's wire casing, seams and edges (mirroring the Fab's style below) and leave the brilliant embroidery as is. Presto! Instead of the Doodle's overwhelming kitsch, we'd have an undeniably cool and confidently sexy Freya bra.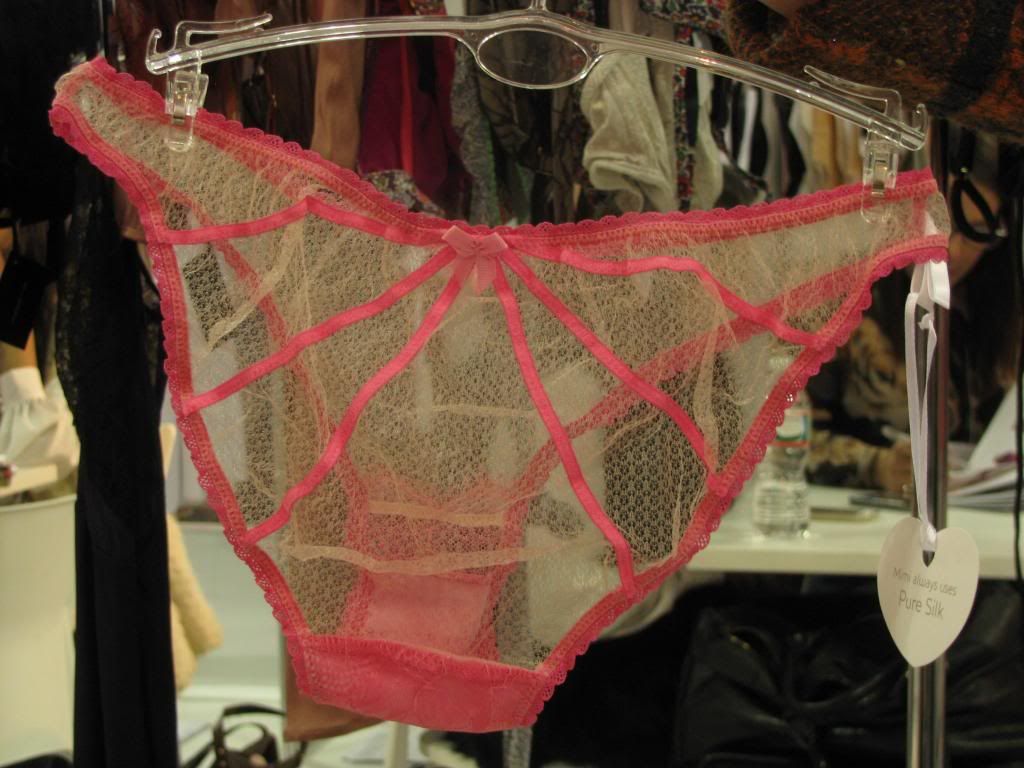 Mimi Holliday's Fab brief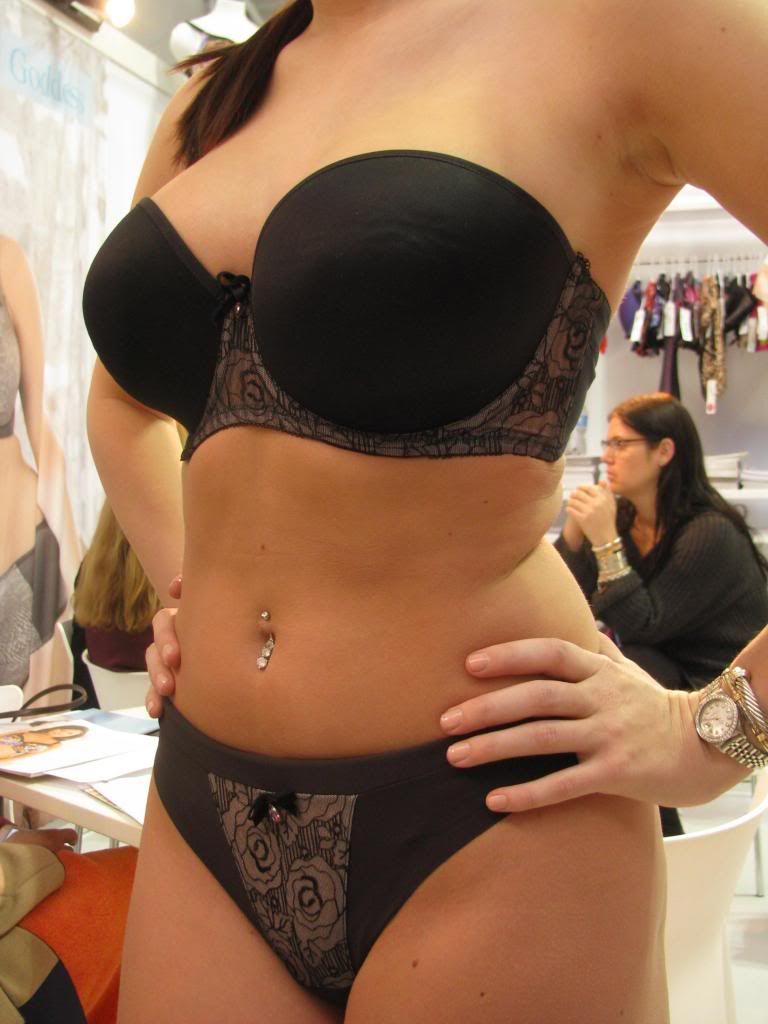 The Deco Darling in Noir (Two Season Fashion from October)
Freya had two Deco triumphs this season and the Darling was one of them. The etched-on looking roses were on trend, the strapless's edges have been updated to rest securely against the bust and the entire line seemed very natural to the brand. Despite it's debut in October, it already feels like a Freya classic.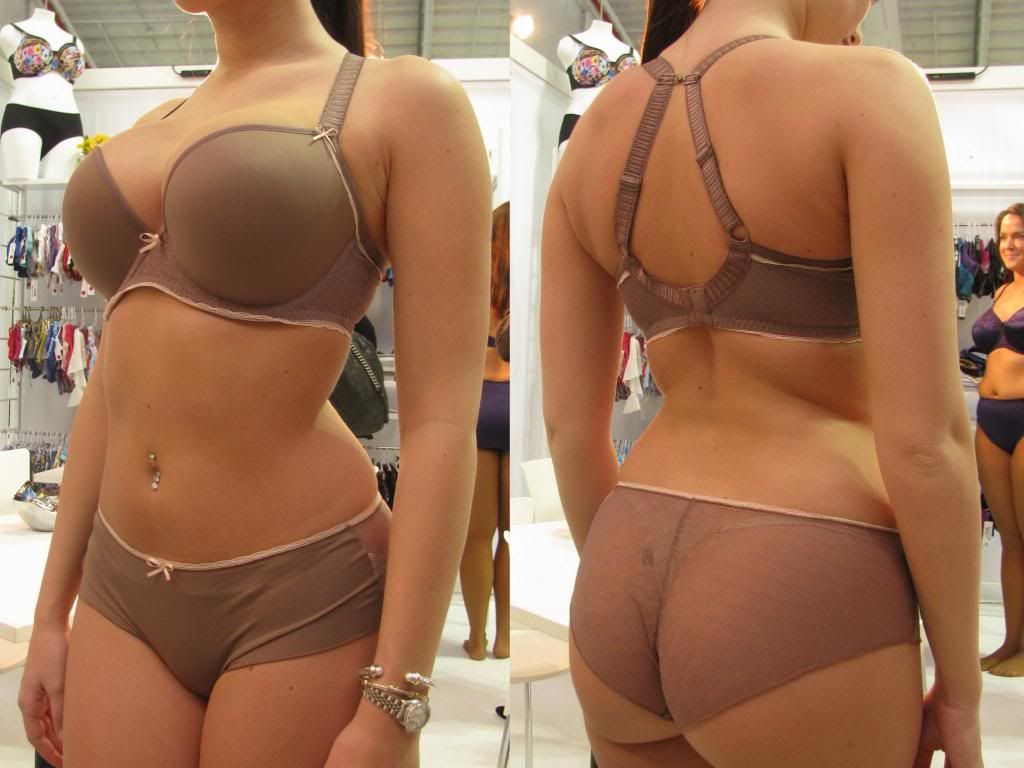 The Deco Vibe in Mocha above (September, with the Black), Blush is due in December and they are all planned continuities.  
I think the Vibe is the prettiest Deco line I've ever seen. It's simple. It's sophisticated. Incredibly, there's no racist "nude" option either, it will be available in mocha, blush and black instead. BOOM, score.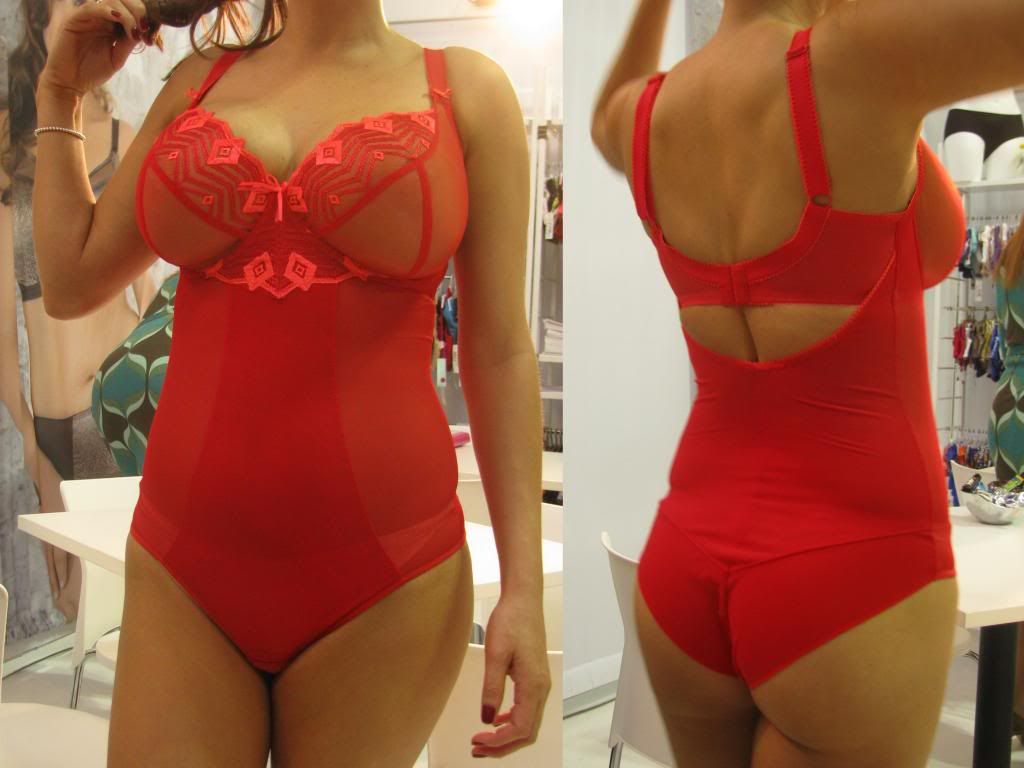 The Ohh La La in Flame (September)
I'm mysteriously missing images for three Deco lines -- the Charm in fuschia, the Spotlight in periwinkle, and a fashion colorway in animal print -- so I haven't covered them in this post. I'm pretty sure one of my fellow bloggers will eventually publish pictures of those lines so I'll be on the lookout and when they appear, the links will be immediately added. :)
I feel very optimistic about Freya after seeing their new collection. We asked for geometric patterns, 28" bands in their padded half cups, styles closer to Huit's aesthetic and an updated or rejuvenated vision. Freya hasn't addressed most of the size and construction complaints nor has it fully reached it's potential as a brand for us cool 
lady-foxes
, but Autumn/Winter 2014 gives me hope that we'll see great things from them in the future.